Artist-in-Residence Program
As part of our goal to provide quality accordion education, we aim to match up talented accordion artists with students in our local community and around the globe. If you are interested in applying for a position, please contact us with your availability in the Fall, Spring, or Summer semesters.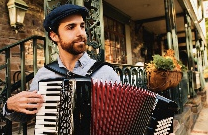 Summer 2016 - Tony Kovatch
Tony is a professional accordionist performing in the NYC, New Jersey, and Philadelphia areas. An extremely versatile musician, Tony performs an extensive repertoire of French, Jazz, Italian, Gypsy, Tango, Polka, and Pop music. Current projects include Lambertville-based Gypsy Jazz quartet 'The River City Healers,' and French Chanson duo "Kim and Tony.' In addition, Tony performs solo accordion at special events throughout the east coast.

Fall 2016 - Rob Curto
Rob joins us with 20 years experience teaching piano and button accordions and is available to teach all levels from beginner to master classes at Liberty Bellows and worldwide via Skype. Our curriculum will also include FREE online lessons that will cover the following topics:
1. Introduction to Brazilian rhythms and how to use the accordion to create a percussion-like "groove".
2. Develop techniques and skills to increase improvisational skills.
3. How to practice, compose, and play by ear a wide variety of jazz and world music styles.