Skip Navigation
Website Accessibility
About Liberty Bellows
We aim to squeeze!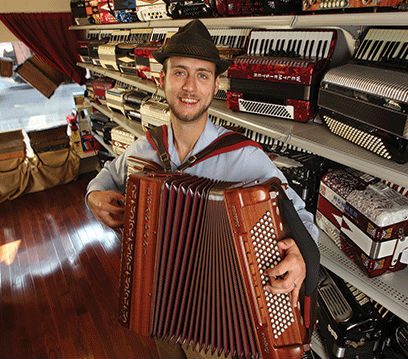 Owner Mike "Bellows" Bulboff was enamoured with the piano accordion ever since he discovered one in his father's attic. What started as a curious hobby led to repairing, teaching, and inevitably a life commitment to the instrument. Following his passion, Mike opened the original location in the historic Italian Market neighborhood of Philadelphia in 2009.
In the years that followed, Mike realized that the future of the accordion depended on building a new generation of repair staff, making the instrument more accessible via the internet, and cultivating a community. Liberty Bellows is committed to accordion so that it will thrive for many generations to come.
We invite you to visit our new location at 614 S. 2nd St, Philadelphia, PA 19147. We are conveniently located a few minutes from I-95 and a short drive from the Philadelphia International Airport. There are always metered street parking spots available in front of the store. For those of you who are unable to visit our store, we are happy to ship accordions and accessories worldwide.
Store Hours

Tue 10:00 am - 6:00 pm
Wed 10:00 am - 6:00 pm
Thu 10:00 am - 6:00 pm
Fri 10:00 am - 6:00 pm
Sat 10:00 am - 3:00 pm
Closed Sundays and Mondays








Liberty Bellows on MSNBC

Liberty Bellows on ABC Localish

1108 - Dark Knight Batman Crucianelli Super Deluxe LM 120
Alash Tuvan Throat Singers - "Only You" Duet Beatbox with Scandalli Air IV Accordion
Toxic - Brittney Spears Accordion Cover
1382 - Gerhard Albinus Covers The Bad Touch, Danger HIgh Voltage, and Apache
1471 - Black Scandalli Super VI 1960s Model N LMMH 120
OTTAJI - Custom Arabic Tuned Red Sparkle Ottavianelli Junior I Piano Accordion 34 72 LMM